Greensatellite

is a licensed
Portugal operator
Discover how you can
transform your business
with our
e-sim

solution
About us
Greensatellite is one of the strongest VOIP and MVNO provider
in Portugal. We are providing our telecommunication services
for call centers and business clients in European&CIS markets
with dedicate 24/7 support.
2000
+
Own retail and business
clients in Portugal
and CIS region
100m
+
Successful calls and
delivered SMS every year
200
+
Direct interconnections
around the world
99.9
%
Routes stability
(our switch reservation in
Portugal, Germany, USA)
Our partners
We work with companies all over the world
Solutions for
Business

partners

A virtual office is an optimal solution with no time expenditures
for laying telephone lines and purchasing a fixed PABX
Personal phone numbers
for employees
Now each employee has his
or her own internal number
Office telephone
system installation
Integrated solution for
telephone system
installation for business
Free calls
between employees
Save up to 100%
on internal communication
Integration with CRM
Possible integration with
various CRM‑systems
Worldwide access
High-quality
communication
from any
Call recording
Security will be glad
Solutions for
Call centers
Traffic profile in 2020: 100 Million minutes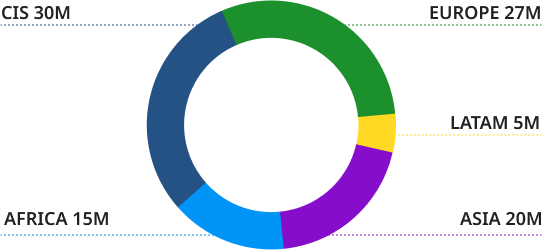 Greensatellite is a best solution for Enterprise clients and Call centers. We provides a dedicate premium routes, 1M lines capacity and DID numbers in every country of the world.
Our team is ready to organize a special support and find solution for your client's requirements.
SMS

 Services

The world-wide SMS service coverage, offering Direct and
High Quality based on our in countries interconnections
Notification
and authentication
Omnichannel promo messages,
transactional notifications and
verification messages with one-
time passwords
Configure functions
There you can configure various
scenarios of how PBX may
function such as IVR-settings,
virtual number rental, etc
Ott messengers and RCS
Our platform supports
WhatsApp Business API, Viber
Business Messages and RCS
messaging as well as
other channels
Quality and speed
High SMS throughput, instant
delivery & 24/7 NOC, real-time
reporting and designated QOS
team
SMS firewall
Prevent fraudulent SMS activities
including spamming, grey routes
and illegal use of SMSC
Types of SMS
All types of SMS are supported
(A2P, P2P, P2A) + unicode, binary
and multi-part messages
Events
Meet us at conferences
to enhance your
business growth
9 - 10 february, 2019
CCE
10 - 12 march, 2019
capacity
Our
contacts
Head office address:
Avenida Manuel Violas n. 476,
Sao Felix da Marinha, 4410–137,
Vila Nova de Gaia, Portugal
VAT number: PT 513 59 59 29
For cooperation, contact
the Business Development Team.